The Importance of ISO 17025 Accreditation for Torque Wrench Calibration
Torque tool calibration is not a typical conversation topic around the dinner table in most American homes, yet perhaps it should be. An October 2016 report by the National Transportation Safety Board noted that from 2009 to 2015, 45 air traffic accidents and incidents occurred that were the direct result of improper torque applied to engine bolts and nuts during aircraft maintenance.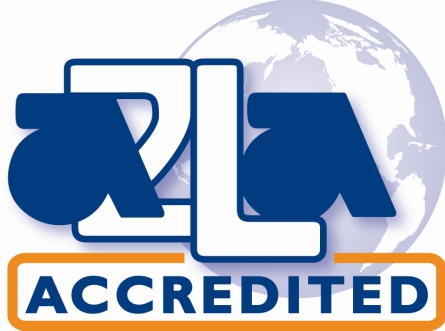 The report highlights three incidents in particular that involved in-flight crankshaft failures that resulted in serious injuries. Given the approximately 87,000 flights that the National Air Traffic Controllers Association estimates cross the US each day, the thought that there could be thousands of lives at risk daily because of improperly applied torque on aircraft engines is scary.
And this is only one industry: industrial torque wrenches are used in many industries such as wind turbine installation and maintenance, oil refining and petrochemicals, pipelines and commercial construction. All told, the number of lives that most likely rely on torque tool calibration at any given moment in this country is probably in the millions. Maybe this should be the only topic of conversation around the dinner table!
To address the clear safety implications involved in the calibration of industrial equipment in general and torque tool calibration in specific, the International Organization for Standardization (ISO) came up with the ISO/IEC 17025 "general requirements for the competence of testing and calibration laboratories." This standard is jointly published by ISO and the International Electrotechnical Commission (IEC), was first developed in 1999, was revised in 2005, confirmed in 2010, and is in the process of another revision now that began in 2015.
The current review is intended to take into account updates in laboratory technology and procedures, to add updates to related ISO standards, most notably (9001) on quality management, and to add more focus on information technology.
Why Calibrate Your Torque Tools? 
Instrument drift: Calibration is useful in minimizing instrument drift. All instruments, including high-quality devices, often drift after a while. They lose the ability to make precise measurements. Calibrating them at ideal intervals is crucial.
Instrument stability: An instrument's stability mainly depends on the environment and its mode of application. Factors such as dust, dirt, elapsed time and fluctuating temperature may cause instability. Even instruments of the same company have different performance after some time.
Low cost: Regular calibration helps in improving your production equipment's operational performance and accuracy. Besides, it minimizes the production line's repair cost.
High traceability: In routine inspections, a company's internal audit may need proof of equipment accuracy. Certified calibration service providers offer traceability to established international and national accuracy standards.
Quality assurance: For your firm to achieve its goals, you need to be committed to quality. Ensure there is a high-quality product output by using calibrated equipment throughout the production line.
Why Use a Professional Calibration Service?
Trust ISO 17025 Torque Wrench Calibration.
If your business requires the use of an industrial torque wrench, it's worth making sure that your wrench is properly calibrated by an organization like Aztec Bolting Services, whose torque wrench calibration equipment is ISO/IEC 17025 certified. 
It assures you that the service meets specific standards. The certification means that the organization has a formalized, written quality control program; formally trains staff in ISO/IEC 17025 processes; and has been audited and approved by an independent accreditation group. The lives that depend on your torque wrenches may literally be riding on it. 
Avoid In-House Calibration Challenges.
One of the reasons many companies wish to perform their own calibration services is that they believe it is more cost effective and easier. They don't have to schedule to have a calibration expert perform the work at a calibration lab. 
However, several issues may arise when calibrating tools in-house. One of the biggest problems is that most companies simply don't have a calibration specialist on staff. Instead, the company will rely on their regular maintenance staff to figure out the calibration measurements for themselves. The information that the maintenance workers rely on may not be up to date, may not be for the torque tools that they have, or may not be accurate if they simply rely on charts and measurements found online.
Choose a Cost-Effective Option and Be Sure Calibration Is Done Right.
In addition, the company must invest in its own calibration tools and work environment, which can be very costly. While they may invest in the appropriate calibration and torque testers from reliable manufacturers such as Skidmore Wilhelm, they may not be following the best practices required to use the equipment efficiently. If not using the calibration tool correctly, these issues may occur:
Over-calibration: when the torque wrench is calibrated too much or too often
False failure: where the torque tools may register as failing the calibration when in fact the tools are in tolerance
Used outside specs or intended range: the calibration tool may not be used within manufacturers specifications or for the intended range, as measurements may be inaccurate
Incorrect calibration for torque tools: when the torque tester is not used at the right calibration standard, specification, or following procedure as the torque wrench is not at the right calibration.
Expert ISO Certified Calibration Services Eliminate Uncertainties.
Working directly with companies that provide calibration services, can reduce many of the issues that you will find with in-house calibration work. These companies invest in trained calibration experts who have comprehensive knowledge in a range of torque tools, torque tester equipment, manufacturer specifications, and ISO and NIST standards to provide superior services.
In addition, our excellent partnership with Skidmore Wilhelm allows us to provide best-in-class torque testers and other calibration tools for torque wrenches. Our calibration services also provide clean and prepared testing environments to ensure we obtain the appropriate measurements.
If you are interested in learning more about our accredited torque wrench calibration services, contact Aztec Bolting Services today.